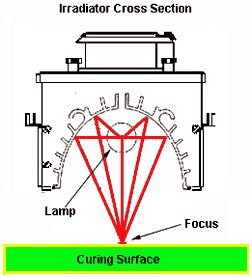 These UV irradiators consist of a heavy-duty housing supporting a linear extruded heatsink and a reflective insert, which acts as an enhanced reflectance liner. The UV reflective material is in intimate contact with the heatsink extrusion allowing it to resist the heat-related yellowing that plague other non-heatsink based designs. In the event that the reflector sheet becomes damaged, it is easily replaced, minimizing down time.
Our UV dryer reflectors are designed specifically for each ultraviolet lamp size. They maintain optimum arc lamp operation temperatures on the medium pressure mercury vapor lamp envelope, end seals, and end-fittings. The irradiator forms an air-cooling plenum, cooling the ultravilolet lamp end-fittings and not over cooling the UV curing lamp envelope.
In addition to lamp cooling (these also work with a metal halide lamp) our Lamp Irradiator Assembly allows for cooling of the work surface and supporting the lamp above the substrate, reflecting UV energy in an efficient curing pattern.
Purpose of an irradiator assembly is to
focus the lamp UV energy optimally for fast curing
support the lamp above the substrate,
maintain proper cooling of the lamp envelope, capillary, and end-fittings
UV Irradiators (reflector assemblies) are used in conjunction with other UV components, such as magnetic ballast, or metal halide ballast and arc lamp, to form a complete UV curing center providing effective UV drying of your product. Replacement UV reflector liners or UV reflector sheets and lamps are also available.