Our CMOS offering includes standard, semi-custom and custom arrays.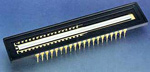 Whether you need a standard CMOS device, semi or full-custom CMOS image sensors or imager-enabled system-on-chip products, we can work with you to provide a solution which meets your products goals. This begins with the quality and performance of the analogue front-end sensor and continues with our CMOS imaging toolbox. This toolbox consists of 'tried and tested', easy to implement 'block-based' IP components. These imaging building blocks extend integration as deep into the total system as required.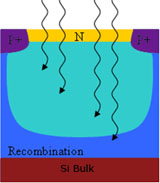 NIR enhanced sensitivity

New "deep well' technology uses a higher bulk resistivity, creating a well structure suited to improved absorption of longer wavelengths, allowing for better MTF and CVF.
Typical Applications include: Industrial/Commercial security, Automotive, Industrial machine vision, barcode reading, high speed scanning, UV, visible, IR wavelength image capture, Medical, Biometric, Professional and pro-consumer cameras (DSLR, broadcast, cine), Display/print color measurement devices.
CMOS Multi ROI Feature

The Multi ROI feature allows you to have several active windows within a scene to output multiple areas of interest. Other solutions require you to have multiple sensors. This feature is like having 4 separate sensors under the same lens.