Wire or tape wound resistors are used when a few hundred to one thousand watts need to be dissipated per element. They are made by winding a high resistivity material around an insulating core. Depending on the application we typically wind with Nickel-chromium alloy (Nichrome) around a ceramic core. Once wound, various terminations are added and the resistance wire is spot welded to them for electrical contact. Lastly, the assembly can be encapsulated to protect it from adverse conditions such as moisture and physical damage. This is done by applying several coats of vitreous enamel and then firing to create a durable coating. In the case of open type wire wound resistors, these are close wound with an oxidized resistance wire. They are supplied with an adjustable tapping clip as standard.
Minimizing the temperature coefficient (TCR) is also an important consideration. TCR is the resistance change with temperature, and is stated in ppm/˚C. For example, a resistor rated at 100ppm/˚C, the resistance will not change more than 100Ω for each 1MΩ of the resistors' value for a temperature change of 1̊C.
For resistors in AC applications, especially those in high frequency designs where low capacitance and inductance is needed, we offer resistors wound using the Ayrton-Perry winding method. See below diagram.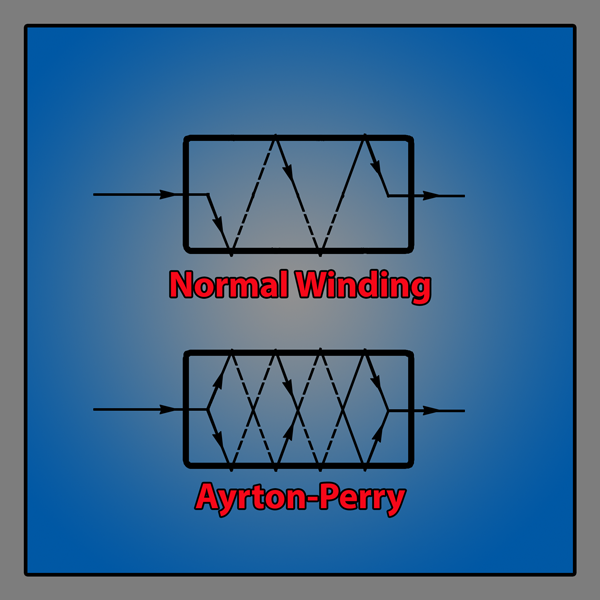 The Ayrton-Perry winding is like a simple resistor winding except that two opposite windings are applied. The current in these windings is applied in opposite directions to minimize the inductance. To reduce the capacitance, the windings are also in close proximity to each other similar to bifilar windings.
Highly Customizable
We can provide unique resistance values unmounted and in various mounting options that most other manufacturers will not consider for low quantities. We can also manufacture resistors using dielectrics materials and manufacturing techniques suitable for medium voltage applications, where creepage and clearance distances are a concern.